ECA & CCA
ECA/ CCA activities cull out a lot of skills in a child such as competitiveness, self- confidence, commitment, time management, determination, adaptability, emotional maturity and team building to promote and provide a great platform to the dreams of our children.
Children are assessed in activities such as Swimming, Skating, Tennis, Cricket, Karate, Yoga, Vocal Carnatic, Keyboard, Drums, Veena, Violin, Guitar, Bharathanatyam, and basic Computer Operation. Application (IECD), Robotics, Mind box, Arts & Craft, Silambam, Abacus etc. twice in an Academic year
CAMBRIDGE ENGLISH:
Cambridge English offered by the University of Cambridge the UK is an opportunity specifically designed to promote English among speakers of other languages. It is mandatory for all students to take up the Cambridge English Course according to their age groups. This curriculum supports and encourages positive learning that ensures the pupils to master all four skills of the English language namely, Listening, Speaking, reading and Writing.
The various programmes under Cambridge English are as follows:
Young Learners English (YLE): There are 3 levels for children to work through in YLE: Starters, Movers and Flyers. Tests are designed to make learning fun and children are encouraged to work towards securing certificates and earning 'shields' that record their progress.
Key English Test (KET) & Preliminary English Test (PET) is a qualification that shows a pupil can deal with everyday written and spoken English at basic and intermediate levels respectively.
First Certificate in English (FCE) offered by University of Cambridge, is mandatory for all the students of Class VIII to master all the four skills in English such as Listening, Speaking, Reading and Writing.
ROBOTICS :
It is offered from classes I to IX with not just learning concepts, but the application of these concepts learnt in the field of Math, Science, Computer Science, Electronics and Engineering to solve real world challenges. This course introduces students to know the basics of modeling, designing, planning, and control of robotic systems. They gain exposure to the systems of sensors, control systems, manipulators, power supplies and software that work together to perform a task. In some cases teaching of Biology, Medicine and Chemistry might also be involved in the context of Robotics. Practical training in the Robotics lab gives them a new dimension of learning and understanding the concepts learnt in the class thus kindling their natural curiosity and enthusiasm.
MIND BOX:
Vidyalaya has an open platform for the future entrepreneurs to learn and experience in "MIND BOX". We believe new media & technology can empower our children.
We provide
Art 2 paints
Art 2 robot
Art 2 photo
Art2 Graphics
Art 2 game
Art 2 Robotics
Art 2 Design
Art 2 Animation courses
INSTITUTE FOR ENTREPRENEURSHIP AND CAREER DEVELOPMENT – (IECD):
IECD programmer under SUITS (School – University Industry Tie- ups Scheme) of Bharathidasan University provides students with a unique curriculum in Computer Science. Our Vidyalaya, Students of V- VIII won the top 5 ranks in the exam conducted by the Bharathidasan University of the classes V- VIII in computer Basics - Office automation, Graphic design, Web designing etc… our students brought laurels to our school in all the events and programmes conducted by SUITS.
CHITRAVATHI – THE SCHOOL OF VISUAL ARTS:
Vidyalaya aims to shape young minds with professional Art & Craft through regular training and workshops. We aspire to achieve very high standards in whatever we strive for students with higher art aptitude are selected through a screening test to form the core group of the programme. The core amateur learners are connected to professionals through workshops like Art Appreciation programme, Joy of Colors, Speaking Tree site specific art, Tile Art, Wall Mural art, Knife art etc.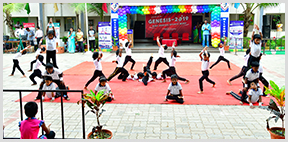 Yoga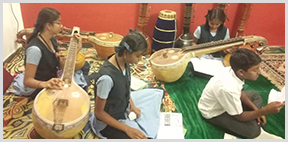 Vocal Carnatic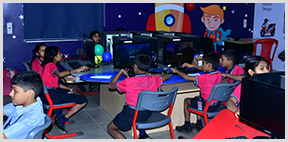 Mind Box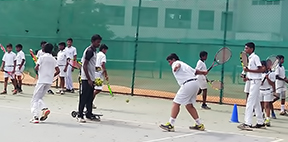 Tennis
Swimming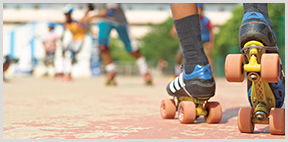 Skating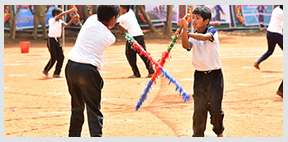 Silambam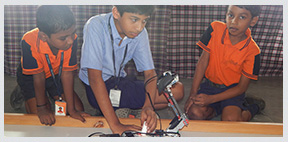 Robotics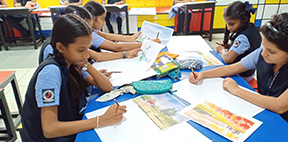 Arts & Craft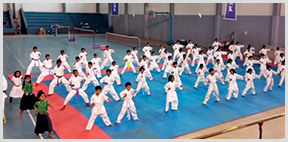 Karate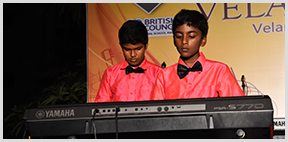 Keyboard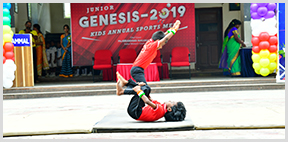 Gymnastics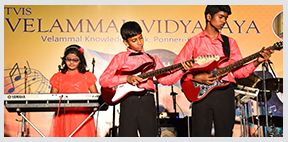 Guitar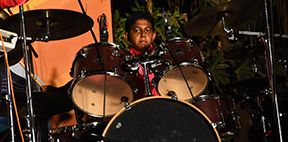 Drums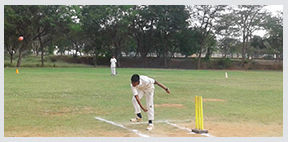 Cricket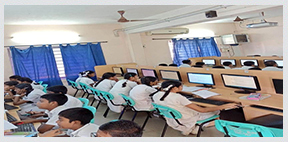 Computer Application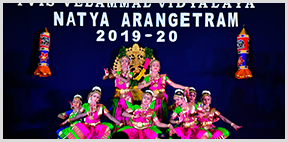 Classical Dance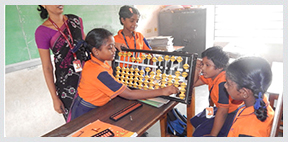 Brain Carve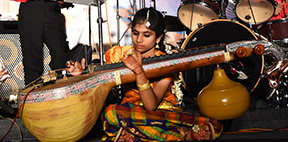 Veena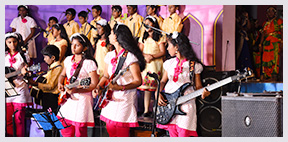 Violin