PRIMARY
Our School follows CBSE (Central Board of Secondary Education) New Delhi for Classes I to V. This curriculum is vigilantly chosen, designed and standardized by competent academicians.
Qualified and well experienced facilitators allow them to grab the opportunity to discover their hidden talents; to excel in the chosen area and spruce them well in all aspects.
Continuous Comprehensive Evaluation (CCE) pattern is followed to assess the child's learning under the 3 areas namely Scholastic, Co-Scholastic and Co-Curricular activities.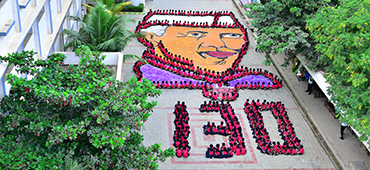 Highlights of actual learning:
Learning Styles: Uses multiple learning styles to help the children to strengthen their understanding.
Smart board Class: Converts the classrooms into more interactive and lively place to retain information.
Olympiad:Training Prepares students to enrich the power of analysis and application through NSO, NCO, IMO, IEO etc.
Cambridge English: Programmer prepares learners to achieve English Proficiency.
Science lab :Supports Science learning through hands-on activities to rediscover Science.
Robotics Lab:Facilitates young brains to craft new age innovations.
Mind box Lab :Focuses on creative thinking, visual communication and century technology for the future development of the child.
Abacus :Training focuses on brain development of children by giving creative problem solving skills.
Sports:To develop fundamental skills into sports skills for a healthy life.
Art Gallery:Sharpens creative and aesthetic skills of students in Art and Craft.
Extracurricular Activities:To train students in Swimming, Skating, Tennis, Cricket, Karate, Yoga, Gymnastics, Abacus , Bharatanatyam, Silambam, Mindbox, Robotics, Art & Craft , Vocal Carnatic, keyboard, Drums, Violin ,Guitar,Veena, Computer Application (IECD)etc.
Assessment & Evaluation : Our school Report card describes the progress of students with regard to learning and identifying the areas for growth.